News
December 16, 2013
FlyMontserrat replaces LIAT on Antigua-Nevis route
The Montserrat-based airline FlyMontserrat is taking over the Antigua to Nevis route with effect from today.
LIAT pulled off the route earlier in the month and FlyMontserrat is delighted to replace them, in a contract negotiated with the Nevis Island Administration to provide twice daily services, five days a week using its Islander aircraft.
Initially the service will operate on Mondays, Fridays, Saturdays and Sundays with the addition of a Wednesday service beginning on the 22nd January 2014.
The 25-minute flight will leave Antigua for Nevis at 11.30 returning from Nevis at 12.15. Afternoon flights will depart Antigua for Nevis at 16.45 returning from Nevis at 17.30.
The service will allow passengers to transfer to Europe, North America and the rest of the Caribbean through the Antiguan gateway.
Base single fares have been set at US$165 plus taxes.
Managing Director, Nigel Harris was today meeting Hotel owners, agents and officials and was delighted to be returning to Nevis: "The Nevis Island Administration have been pro-active in trying to seek a replacement to LIAT at a difficult time of year and at short notice. I hope this will lead to a long-term relationship with the Island, that the service will be well-used and we can expand air services further at some time in the future".
FlyMontserrat has been operating in the region for nearly five years, flying scheduled services, mainly out of Antigua and Montserrat. It also flies charters throughout the Caribbean, carries freight and offers medivac facilities.
Bookings can now be made as follows –
On-line on http://www.flymontserrat.com (accessible 24 hours a day),
by e-mail to info@flymontserrat.com
In Nevis - with TDC, our handling agent at the Airport (Tel: 869–469 9333/5238)
In Antigua - with CAS, our handling agent at the Airport check-in desk
In Montserrat at FlyMontserrat's airport office (6.30am - 6pm Tel: 664-491 3434)
or through your travel agent.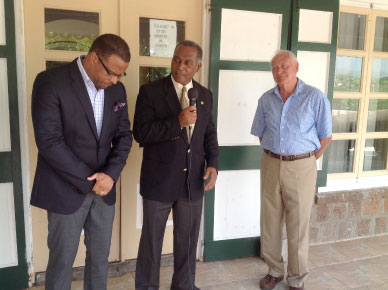 16th December 2013
Nevis Premier Hon. Vance Amory (centre)
announcing the new service with
Hon. Mark Brantley, Minister of Tourism (left)
and Captain Nigel Harris, Managing Director
of FlyMontserrat (right).
FlyMontserrat schedule Antigua Nevis from 16th December 2013
ANTIGUA >> Nevis
Days
Depart
Arrive
Flt No.
Via
Effective
Finishes
Mon/Fri/Sat/Sun
11:30
11:55
5M503
Direct
16/12/2013
15/6/2014
Mon/Fri/Sat/Sun
16:45
17:10
5M509
Direct
16/12/2013
15/6/2014
Wed
11:30
11:55
5M503
Direct
22/1/2014
15/6/2014
Wed
16:45
17:10
5M509
Direct
22/1/2014
15/6/2014
NEVIS >> Antigua
Days
Depart
Arrive
Flt No.
Via
Effective
Finishes
Mon/Fri/Sat/Sun
12:15
12:40
5M504
Direct
16/12/2013
15/6/2014
Mon/Fri/Sat/Sun
17:30
17:55
5M510
Direct
16/12/2013
15/6/2014
Wed
12:15
12:40
5M504
Direct
22/1/2014
15/6/2014
Wed
17:30
17:55
5M510
Direct
22/1/2014
15/6/2014