News
March 25, 2014
FlyMontserrat carries Queen's message to the Commonwealth
The Queen's Baton Relay for the 2014 Commonwealth Games was flown onto Island by FlyMontserrat this morning.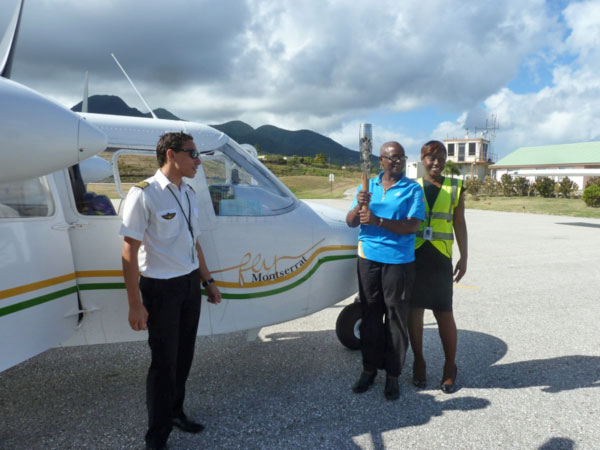 FlyMontserrat carries the Baton to Montserrat
Pilot Julien Huyghues des Etages, Baton Carrier Cathlena Belrose, & Flight Handler Racquel Wedderburn
The Baton left Buckingham Palace in the United Kingdom in October 2013 and, following tradition, has travelled, with a message from her Majesty the Queen, through many of the Commonwealth countries before taking the short hop from Antigua to Montserrat – its 50th stop.
The Relay will be touring all round the island over the next couple of days as part of its 288 day journey visiting a total of 70 Commonwealth nations and territories involving a third of the world's population.
The Queen's message in the Baton will, on its return to Scotland for the opening ceremony of the Games on the 23rd July, be read aloud.
The Relay symbolizes the coming together of all Commonwealth Nations and territories in preparation for the four-yearly Festival of Sport and Culture, which takes place this year in Glasgow.
On arrival in Montserrat there was a warm welcome for the team travelling with the Baton who was met by officials, dignitaries and school children. The Baton was then passed to the Masqueraders who performed their traditional dance, Baton in hand.
The Baton leaves with FlyMontserrat on Thursday, en route to St Kitts and then Anguilla.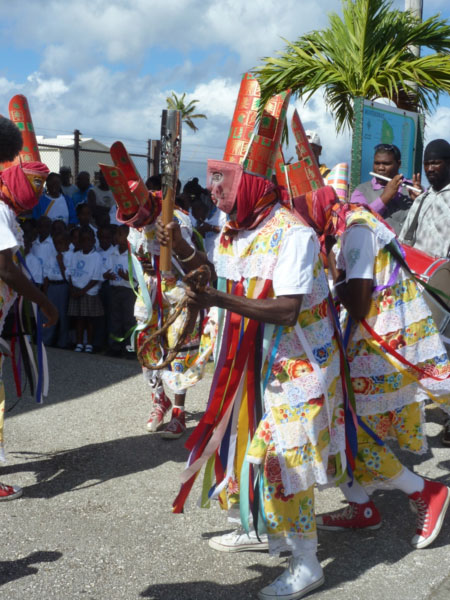 The Queen's Baton carried by Montserrat's Masqueraders