News
December 21, 2014
New Service to Barbuda
FlyMontserrat is delighted to have entered into an agreement with the Government of Antigua and Barbuda to fly two scheduled flights every day between the twin Islands of Antigua and Barbuda.
Flights start Sunday 21st December and will operate daily departing Antigua at 8 am and 4 pm. The return flights will depart Barbuda at 8.30 am and 4.30 pm. Fares are US$55.55 and as it is a domestic flight there are no taxes.
The Montserrat based airline, FlyMontserrat already provides air ambulance provision for the island and has a good working relationship with the Government of Antigua and the Barbuda Council. FlyMontserrat's Managing Director, Nigel Harris, said: "The Government of Antigua contacted FlyMontserrat to help out at a difficult time for the island with their current air operator's inability to provide service". Captain Harris added: "We are happy to work with our friends in Barbuda".
The Airline, using three twin engined BN Islander aircraft, also flies scheduled services to Montserrat and charters throughout the region.
Bookings can be made on-line on www.flymontserrat.com, with the handlers in Barbuda on Tel: 268-562 8089 and at the FlyMontserrat check in desk at VC Bird International Airport, or by calling the main FlyMontserrat office on 1-664 491 3434.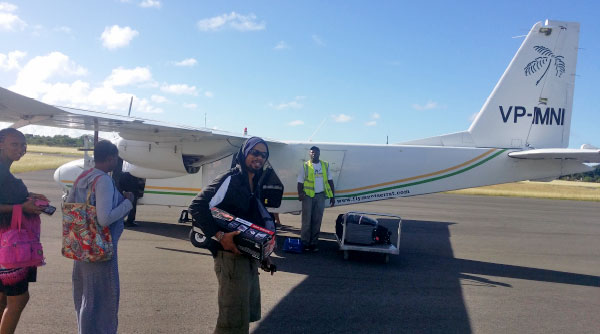 The first passengers to leave Codrington Airport, Barbuda on the 21st December 2014