News
March 26, 2015
Service to Barbuda
FlyMontserrat is to resume its service between Antigua and Barbuda from Monday 30th March.
The Montserrat-based airline stepped in to help in December when SVG pulled out of Montserrat, Antigua and Barbuda leaving passengers without service for six weeks in the peak season. FlyMontserrat has now been asked by the Antiguan Government to resume the service with a one year contract.
The airline is a frequent visitor to Barbuda flying charters and medivacs and Managing Director, Nigel Harris, confirmed that the airline is delighted to return on a more permanent basis.
FlyMontserrat is scheduling two round trip flights every day departing 8am and 4pm from Antigua and at 8.30am and 4.30pm from Barbuda for the 20 minute flight using twin engined 10 seat Islander aircraft.
Fares are set at EC$150 each way and can be booked on line at www.flymontserrat.com, through the handling agent in Barbuda on 1-268 562 8089, at the FlyMontserrat check-in desk at VC Bird International Airport in Antigua or through the FlyMontserrat office on 1-664 491 3434.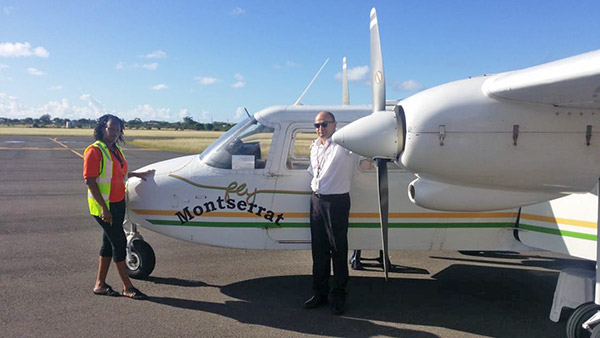 FlyMontserrat's first scheduled flight into Codrington, Barbuda