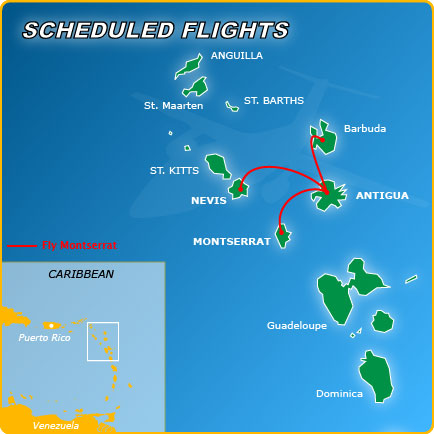 COVID 19: Scheduled service has resumed with altered timetable. You must follow advance travel requirements for entry to Montserrat and Antigua which have changed. Check Govt website - www.gov.ms. Covid tests required in advance for all passengers arriving/transitting Antigua. All flights cancelled by us can be rebooked or refunded. Refunds given only where original booking was not flown by us. Changes to flights in July to September are made with no Change Fee only where we are given at least 3 days notice before flight. Our office is manned from 8am to 4pm.
Charters are available when schedules are not running, subject to permissions.
If you cannot see the flight you want ask to be put on our waitlist.
Note Montserrat's departure taxes of US$14 are now added to your fare when booking or making a change.
Flights can be booked on-line up to the end of February 2021.
We will allow you to move to an earlier flight on the day of travel without paying any change fee - subject to availability.
Contact details:
Tel: 1-664 491 3434. E-mail: info@flymontserrat.com
WWW. flymontserrat.com
---