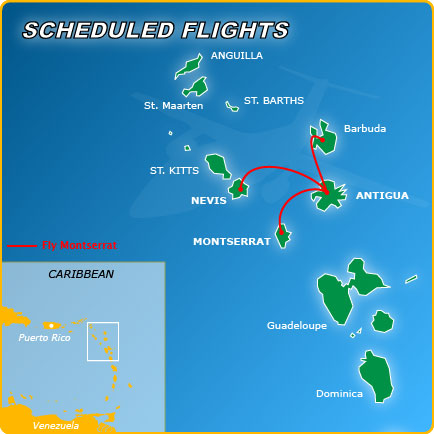 News & Urgent Travel Advice
All flights running normally.
When booking, only available seats will show up on-line. If you are in a group try splitting up to pick up odd seats. Saturday afternoons are particularly busy at Antigua Airport. Queues can be long and extra time should be given for connections. Please check in early.
If you want to change your flight please e-mail us. Changes must be paid for at least 6 hours before existing flight booking.
COVID 19: check Govt websites before flight in case of change. Passengers who show flu-like symptoms will not be able to check-in.
---
Our office is open from 08.00 to 17.00. The lines are busy so please check availability and book on line on www.flymontserrat.com. Use the "Click here to book" tab.
WAITLIST: Email us and ask to be put on our waitlist because, if there is demand and we have availability, we put on extra flights. For the waitlist we need route, number of passengers, date of travel, connecting flight number and weights of passengers.
Flights can be booked on-line up to 14 April 2024.
Please make sure we have your contact details in case of flight changes.
CHARTERS are also available.
Office: Tel: 1-664 491 3434 (open daily 0800-1700)
E-mail: info@flymontserrat.com