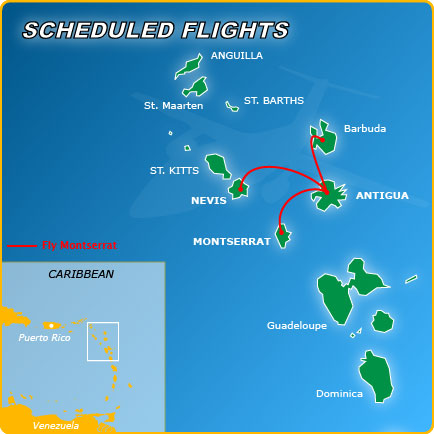 News & Urgent Travel Advice
COVID 19: You MUST follow Covid Test, Vaccination & Quarantine rules for entry to Montserrat and Antigua. Check Govt websites before booking & again before flight in case of change. From 11 July 22 no negative Covid tests are needed for flight to Montserrat but you will be tested on arrival. Passengers who show flu-like symptoms will not be able to check-in. Please wear masks at check in and on the flight.
---
Government subsidised seats available to the end of September 2022. If you cannot see the flight you want - ask to be put on our waitlist.
Flights can be booked on-line up to 31/1/23. Please make sure we have your contact details in case of flight changes.
Office: Tel: 1-664 491 3434 (open daily 0800-1730)
E-mail: info@flymontserrat.com